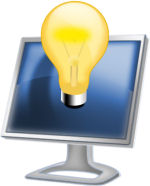 Do you need 1 hour or 15 weeks of work done?
Consulting, Problem Solving & Contract Work
At Icetips Solutions, we love working on projects and solving problems. Whether your project will take 1 hour or 15 months (or anything in between), we would like to help.
Our specialty is Clarion software - all versions and varieties. Arnor Baldvinsson is the Clarion guy at Icetips Solutions, and he has been actively working with Clarion for over 20 years. Arnor loves solving Clarion problems. Whether it is a code or template issue, native Clarion or third-party, conversions, code reviews, new code, maintenance, reports, DLLs, finding bugs, or anything else, Arnor is ready to help you.
And more
At Icetips Solutions, we do more than just straight Clarion coding.
Here is a small sampling of other things we can do:
And the best part...
Pay for only what you need
With a minimum billing time of 1 hour and an hourly rate of $80, you could have Arnor find that stubborn bug, integrate a template, or write some code for you - for possibly less than $100.
Pay for only the time you expect to need, or make a "down payment" on a larger project. We will work for the time paid, then let you know how much longer we expect the project will take. Or, if it takes less time than you paid for, you will have a credit available to use whenever you need it.
Arnor enjoys helping others with software projects. For just $80 for an hour, you can have him help you.

Home :: Projects :: Customers :: Contact